Geography of Norway
Kingdom of Norway lies in Europe, occupying western part of Scandinavian Peninsula. It is a mountainous country characterized by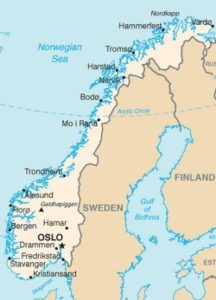 rather harsh climate (the coast is an exemption due to the Gulf Stream), with a veeery long coastline created by numerous fjords and area similar to Germany and Poland, but populated only by 4.5 to 4.8 mln people (which is 1/18 of German and 1/8 of Polish population).
On the map you can see only main part of Kingdom of Norway, which stretches far North to Jan Mayen Island and Svalbard Island (popularly called Spitzbergen). Here you can find more detailed map.
If you look closely on the map to the right, you will find most of the places I write about below. Let us start our journey!
Tromsø – Paris of the North
Main city of Northern Norway is Tromsø which lies North of the Arctic Circle, on the Norwegian coastline. You can get here by plane, by a fast boat (called Hurtigruten) or by bus/car. There is no railway though. In 19th century there was a plan to build a railway to Tromsø, but the realisation was abandoned due to technical complication and cost after building a railway station, which now is transformed to a restaurant.
Tromsø is populated by 65 000 and hosts the world's most northern university (10 000 students), brewery and monastery (a Carmel convent). Tromsø was selected by the Norwegian National Olympic Committee as Norway's candidate for the 2018 Winter Olympics, but the candidature was lately dropped due to huge costs.
Polar Nights and in winter season Aurora Borealis – the Northern Lights. All in all Tromsø is a small, but nice and busy city, most part of
the year crowded with students from various corners of the world. In January/February takes place annual The Northern Lights Festival, a classical music festival with opportunity to watch Aurora Borealis (if you are lucky). In summer can listen to the midnight concerts in the Arctic Cathedral while watching the virtually never-ending sunset.
Of course there a lot more to do here, like dog sledge tours, glacier walks, diving, fishing, hiking, skiing and more.
Spitsbergen – On the Edge of the World
Arctic Circle Norway
Arctic Circle Norway
Fjord norway
Longyearbyen, Svalbard, Spitzbergen, Arctic, Norway
Going South – Lofoten Islands
Lofoten Archipelago is situated behind the Arctic Circle, but the climate here is relatively mild due to the Gulf Stream. The main city of the
archipelago is Harstad. The islands steep rocks seem to raise directly from the ocean, while the small pieces of land between the mountains are almost flat, inviting to cycling tours.
Lofoten islands are connected by bridges, sometimes extremely narrow and curvy. They offer a lot of tourist attractions. Here you can hike and climb, paddle a sea kayak, go for a whale safari and much, much more. In the fishing season you can observe wooden constructions with tons of cod (stockfish) hanging on them for drying and spreading well … a peculiar smell 😉
In the southern part of the archipelago lies a little village called Å with ca 100 inhabitants. Letter Å is the last letter in Norwegian alphabet and this town really deserves its name – here the E10 road ends (some might say it only begins here). Close to Å is located world's biggest maelstrom (Moskenesstraumen), which was an inspiration for writers E.A. Poe and Jules Verne.
Close to Lofoten Islands lies city of Narvik, known in history for a couple of fierce naval and land battles during the Second World War between the German army and joint forces of Norway, Great Britain, Poland and France.
Trondheim and Nidaros
Trondheim was founded by King Olav Tryggvasson in 10th century. In medieval times Nidaros (Trondheim's original name) was the capital of Norway. From this period of time originates the beautiful Nidaros Cathedral (Nidarosdomen) built over the grave of St. Olav, a canonized king of Norway, a must for a visitor. This is the most important church in Norway, regarded as national sanctuary and coronation church (until 20th century).
Besides Nidarosdomen, which is a must as I said, you can also visit Kristiansen Fortress (Festning), Sverresborg Folk Museum and Munkeholmen (an old monastery, fortress and prison).
Trondheim is also an very important technical and educational center, its two major research centers are NTNU (Norwegian University of Science and Technology) housing 7 faculties and 53 departments and SINTEF (The Foundation for Scientific and Industrial Research) being largest independent research organization in Scandinavia. These two research centers offer technology for off-shore industry, petroleum and energy, cybernetics, environment protection projects, marine industry, chemistry and many others.
Find a place to stay in Trondheim.
Amazing Invention – a Bicycle Lift
Did you know that in Trondheim was built world's first (and only) bicycle lift, called Trampe? It has length of 130m and gradient of 20%. Watch it on the video. Clever, isn't it?
Ålesund – the Phoenix City
Another interesting city during our travel South is Ålesund. It is a relatively young city, established in 19th century, but seriously
experienced shortly after, in 1904, when it was almost totally destroyed during a night in a great fire. Unbelievably only one person was killed then.
In only three years the city was completely rebuild in one style – Art Nouveau. The buildings are decorated with towers, turrets and imaginative and colourful ornaments. Taking a walk, look at all parts of the buildings – that's when you will notice all the small details which make these houses so beautiful. Today, Ålesund is renowned both nationally and internationally for its architecture, and is a member of "Rèseau Art Nouveau Network", a European network of Art Nouveau cities, including among others Glasgow , Barcelona and Vienna .
In addition to its unique architecture, Ålesund can offer you the Centre of Art Nouveau Architecture (museum Jugendstilsenteret), one of the largest seawater aquariums in northern Europe Atlanterhavsparken and scenic views of steep mountains meeting the North Sea.