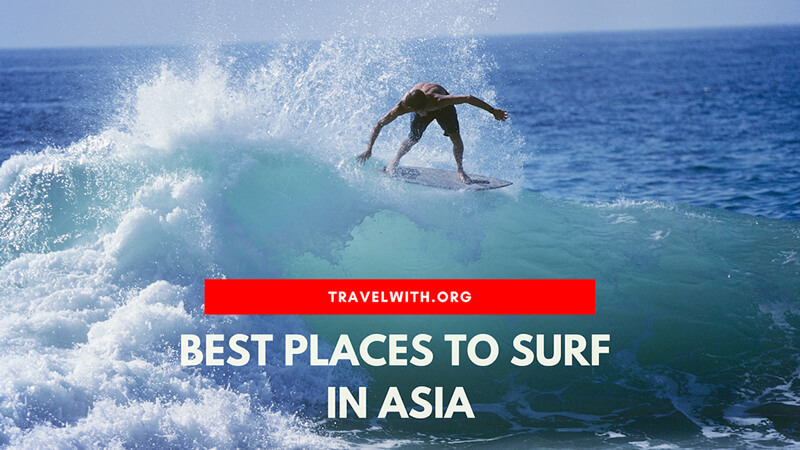 Asia is a huge continent and has a lot of great places for surf lovers. If you haven't been to Asia yet then it should be high on your list of destinations to visit. Today, we are going to look at some to the best places to surf in Asia. So, let's get to it. We have not included Australia in this article mainly because it is a topic that deserves it's very own article due to there being so many surf spots down under to suggest.
Bali, Indonesia
Bali is by far one of the best places to surf in South East Asia. There are many great beaches in Bali, but if you are a beginner at surfing, you should try Kuta Beach. It is can be a bit crowded but you can find great surfing schools here. So, it is a good place for beginners to start.
If you are a veteran surfer and have tons of experience then Uluwatu is your place. You will enjoy powerful waves and never-ending barrels.
Best surfing months are from April to October.
Mentawai Islands
​
If you do not like crowded beaches, we recommend you visiting Mentawai Islands. The water there is clear as the blue sky and you will find it to have a very secluded atmosphere. Kandui Resort is a great land-based surf camp.
The best time to surf in the Islands is from March to October.
Philippines

​
The Philippines is a great tourist location. It's coastal beauty is spread well over 20,000 miles and has many beautiful places to surf.
If you like chasing big waves and hitting some consistent swells, then you would simply love La Union. It is the ultimate spot for veteran surfers.
If you are a beginner and riding for the very first time then you would want to visit San Juan. There are a lot of good surfing schools and great trainers in this area.
Cloud 9 is considered to be one of the best places to surf in the world. As a matter of fact, it is among the top 10 spots to surf in the world. You would experience speed, height and mystical swells, which would make you believe that you really were on Cloud 9.
The best surfing month are from October to April.
Maldives
​
The Maldives is a tropical nation that is located in the Indian ocean. The beautiful beaches and extensive reefs, make it a heaven on earth.
It is home to some of the cleanest surf spot on the plant -The North Male Atolls. The never-ending waves will allow you to have long rides. Villingilimathi Huraa provides you with crazy long rides and it is considered to one of the best breaks in the world.
If you are planning on going to the Maldives then you should come between June and August as these are the best surfing months.
Thailand
​
Thailand is one of the hottest tourist destinations in the world and is also home to many great surfing hotspots.
Kata Beach in Phuket is a great surfing spot for all kinds of surfers. If you are a beginner, you can find soft bubbling waters and veteran surfers can have some fun with rough swells.
Bang Tao Beach is a great place for surfing and you will find fancy resorts and 5-stars hotels as well. So, visiting Bang Tao Beach will be worth your money and time.
From April through to October are great months for surfing.
We hope you found this article to be informative and we cannot wait for you to visit these beautiful places.