Salzburg is the third most beautiful city in Europe! Over 32,000 readers of the American travel magazine Conde Nast Traveller chose Salzburg, together with Venice, Florence and Rome , as the third most beautiful city in Europe.
To visit Salzburg is to delve into a world of beauty, a magnificent past and an exciting present. No matter how you encounter this world-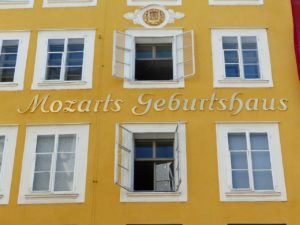 famous city for the first time, it will always be a very special experience. Located in the "heart of Europe", Salzburg is easily accessed from all directions.
Welcome to the city of Wolfgang Amadeus Mozart, the Salzburg Festival and the magnificent buildings that dominate its unique cityscape. The harmony between the architecture and the landscape with its mountains and lakes captivates visitors by providing an unparalleled atmosphere. Experience the charm and splendor.
Salzburg,The Fourth Largest City of Austria
The population of Salzburg which is Austria's fourth largest city,is 150,000. Salzburg is the capital of an Austrian state called Salzburg as well. The population of Salzburg started to increase in 1935 since Salzburg absorbed other municipalities.
Salzburg is an important trade region in Europe which is very dynamic. More than 30 percent of jobs are in the field of tourism. Unemployment rate is the lowest rate in this region. Salzburg is located in the northern boundary of Alps.T he Altstadt or 'Old Town' is dominated by churches and baroque towers. Salzburg is 187 miles (300 km) west of Vienna and 93 miles(150 km) east of Munich . Salzburg has humid and cool climate.
Many people consider Salzburg a place which offers the best of Austria's Baroque Architecture, a beautiful Alpine scenery, and a musical heritage because of Wolfgang Amadeus Mozart.
A Glimpse of History of Salzburg
HohensalzburgIn 11th century there was a controversy between Emperor and pope. Because of this controversy between them Archbishop Gebhard felt danger. One of pope followers in 1077 began building three castles.H ohenwerfen, Friesach and Hohensalzburg. It is good to mention that Salzburg was an independent city-sate ruled by powerful prince-archbishop.
Hohensalzburg is the largest one and the best preserved. If you visit Hohensalzburg do not forget to visit the state apartments.
Getreidegasse
The Getreidgasse is the commercial center and one of the oldest streets of Salzburg, and there are many shopping centers. You can see most of the buildings in Getreiddegasse have wrought-iron guild signs which originated during the Middle ages. There are many international companies as well as local retail shops that are doing business there.
There is an old building at the end of Getreidegasse which was used as hospital until the end of 19th century.
Wolfgang Amadeus Mozart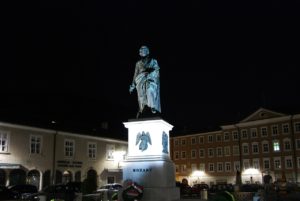 On 27th January 1756 Wolfgang Amadeus Mozart was born in the house number 9 of Getreidegasse.
The Mozart monument, which is made of bronze was unveiled by Mozart's son in 1842. It is good to know that the first Mozart Festival took place in the same year as well.
If you visit Salzburg do not forget to buy the famous Mozart chocolate which is called MozartKugel.
Motzart House
Motzart HouseMozart House on Geteridegasse where Mozart born is the most frequent visiting place in Salzburg. Mozart lived in this house until he was seventeen.
Thousands of Mozart fans visit Mozart House everyday. Inside Mozart house you can visit Mozart's paintings, letters and instruments.
Mozart Chocolate – Mozartkugel
If you visit Salzburg do not forget to buy Mozart Chocolate from Chocolate stores that are available in Salzburg. It is so tasty and delicious.
They are really delicious and good. Try them if you didn't try before! They are really delicious!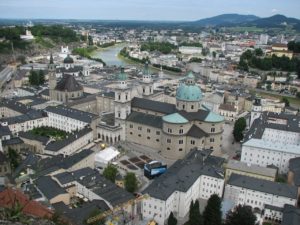 Transportation of Salzburg
Hauptbahnhof Salzburg enjoys of an excellent transportation system. Salzburg is connected to Vienna, Innsbruck, Munich and Zurich by rail connections.Train departs every 30 minutes.
In city of Salzburg there is trolly bus system and bus system with more than 20 lines and S-Bahn system.
Also Sazburg Airport has scheduled flights to other European cities.
Salzburg
Salzburg is really a beautiful city. If you like to have a good view of Salzburg you should go to Hohensalzburg Castle. From there you will have the same view of this picture.