Italy is one of the most visited countries in Europe. This is due to its magnificent attractions that combine art, history, technology and society. Its attractions. In terms of economy, Italy is ranked as the seventh largest economy in the world. Italy is well known for its deep Catholic roots, famous wines, roman ruins, and renaissance art. It is also known for its magnificent artists among them:
Donatello, Leonardo da Vinci, Raphael, Michelangelo and many more. With its rich art it is one country everyone should visit at least once before they die. With this article I want to give you a sense of Italy.
Some brief facts on Italy
Country Full Name: Italian Republic
Measurements: Metric
Currency: Euro
Population: approximately 59.5 million.
Religion: Christianity 90%.
Capital: Rome
Life expectancy: male 79.68, female 82.81
Rome
Rome was the ancient capital of the Roman empire. It is also the headquarters of the Catholic church. It has many monuments and picturesque sights that make it a walking museum. Among some of the most popular places to visit here are:
1. The Colosseum
A historic place where gladiators fought lions. It is more than 2000 years old and it can hold 50,000 spectators. One of the most impressive structures in the world. It is touted as one of the great works of Roman architecture.
2. Trevi Fountain
One of the most beautiful fountains in Rome. One legend has it that if you throw a coin with your back to the fountain, you will return back to Rome. Its central figure is Neptune riding a shell pulled by horses.
3. The Vatican & Sistine Chapel
The Vatican, which is a city within Rome, has the Sistine Chapel where marvelous old testament characters are displayed to the walls and the ceiling. The Sistine Chapel is a place where they elect the new Pope. Its walls are painted by the great Michelangelo and depict God's Creation of the World, God's relationship with Mankind and Mankind's fall from God's Grace.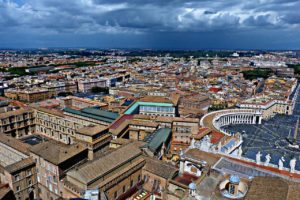 4. Spanish Steps
Longest and widest of all Europe. They are three flights of steps that lead to a church. In the summer it may be covered with flowers making it a beautiful sight to behold. There are street sellers and caricature artists on the foot of the steps honing their skills.
5. Pantheon
Also known as the temple of all Gods, interior made of marble. The inside has an opening in the middle that is open to the sky. A great sight to behold, it is one of the most well preserved of the Roman
buildings.
6. Travestere
A residential quarter that used to be a city port at the time of Agustus until the end of the 19th century. Visitors claim it has a vast array of delicious restaurants for much cheaper rates than other parts of Rome.
Take a gondola through the Grand Canal, a waterway that is approximately two-miles long with views of impressive palaces
1. Piazza San Marco (St Mark's Square)
Inside it is the Doge's Palace, St Mark's Basilica, St Mark's Clocktower, the Procuratie Vecchie, the Napoleonic Wing of the Procuraties,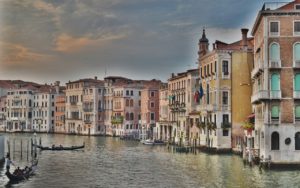 the Procuratie Nuove, St Mark's Campanile and Loggetta and the Biblioteca Marciana. You can visit all these attractions in this square, so it's a great place to go. A brief note about some of these:
St. Mark's Basilica: A spectacular mass of domes and arches, one of the most famous churches in Italy.
Doges Palace – official residence in Venice of the doges, who were the elected leaders of the former Venetian republic. It is also the a seat of residence where many important decisions in Venice's history were taken. It is one of the city's most famous buildings.
St Mark's Campanile – A bell tower 98.6 meters tall, near the front of the Basilica. You can get an awesome view of Venice from the top of this tower.
2. Ponte dei Sospiri (Bridge of Sighs)
Supposedly prisoners who would cross this bridge, which connected old prisons to interrogation rooms, would breathe a last sigh seeing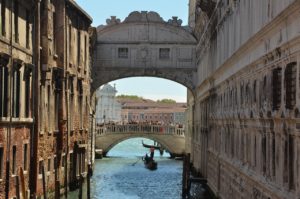 beautiful Venice as they continued on their imprisonment. The bridge is very small and can best be seen via a gondola.
3. Rialto Bridge
Designed by Antonio da Ponte, there are many souveniers that can be bought from merchants through here. Two inclined ramps lead up to a central portico. On each ramp there are rows of shops.
4.Ca' d'Oro
– One of the most beautiful palaces in Venice. Built between 1428 and 1430 for the Contarini family who provided Venice with eight Doges (Dukes of Venice).
Home of the world's most famous artists such as: Dante, Leonardo da Vinci, Michelangelo, and Raphael. (and I don't mean the teenage mutant ninja turtles)
1. Ponte Vecchio
A beautiful medieval bridge lined with shops and vendors everywhere. It is the oldest of Florence's six bridges. You can view beautiful sunrises and sunsets.
2. Galleria Degli Uffizi
Awesome museum with works by masters such as Leonardo, Michelangelo, Raphael. Make some reservations, you may have to wait hours in line.
3. Michaelangelo's David
One of the greatest works of art depicting young David from the Bible. Make sure you get a reservation due to the long lines.
Milan
Milan Cathedral – is one of the world's largest churches, being second in size within Italy only to Saint Peter's Basilica in Rome. Its high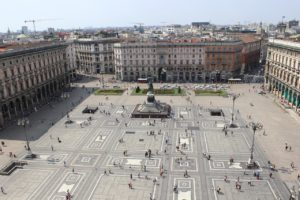 spires reprsent one of the most awe inspiring works of architecture. Make sure you travel to the top for awesome views of Milan and this Cathedral.
Montenapoleone – Ok women, this one is for you. If you love to shop this is the place to go in Italy. It has all the famous names: Versace, Dolce Gabbana, Louis Voitton, Valentino. It is the Italian Beverly Hills. Rich and famous go here, spend money if you have it!
Castello Sforzesco (Sforza Castle) – A castle built in 1368 to defend the city from attack. It was rebuilt several times, and now it's home to various art collections and antique musical instruments. It has a wonderful park nearby adding to its majestic beauty.
Naples
Mount Vesuvius – It is the only active volcano in the mainland of Europe. It takes about 30 minutes to hike around the crater. It has beautiful views from the top. If you have a love of nature this is the place to visit. Make sure you bring a jacket so you don't freeze.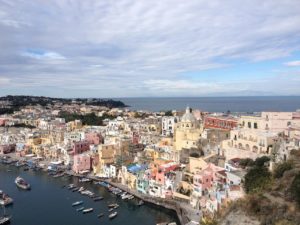 Sorrento – One of the most popular places with beautiful views everywhere. Located on a terrace overlooking the sea.
Pompei – One of the most famous archeological sites in Italy. It was buried by Mount Vesuvius in 79 C.E. The ash that buried the town mummified the entire city. It is a great place to visit and see history before your very eyes.
Capri – An island noted for its natural beauty and romantic atmosphere. It is very costly with expensive shops and hotels lined throughout the island.
Pisa
IN CONCLUSION: Who could forget the Leaning Tower of Pisa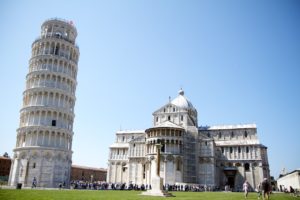 Pisa is home to the unmistakable image of the Leaning Tower of Pisa. Done in 3 stages over a period of 177 years. It began in August of 1173 and continued with two long interruptions for about two hundred years. The tower began to sink to one side due weak unstable subsoil and only a 3 meter foundation. It has 294 steps to the top of the tower.